People might expect dog trainers to have the perfect dog. But by the time Bing was 5 months old I realized I had a challenge on my hands. At first The Bing Blogs were designed for my dog training website: writing about Bing's antics, and our successes and failures, was my way of providing training advice to people who have dogs with issues.
Reading The Bing Blogs will encourage you to spend the time to first recognize your dog's particular problems, and then solve them one by one as best as you can. The time and effort may result in the best dog you've ever known.
With all his issues, Bing was able to perform well in Agility, Rally, Obedience and Scent Work. He won many dozens of titles in spite of the difficulties of working in these event environments. Bing loved to perform for me. I don't look back at his life and say, "Boy what a waste of time, I'm glad that's over." I say, "What a wonderful dog and great friend he was."
Hopefully reading this book will help you to achieve that relationship with your difficult dog.
Buy the Ebook edition of The Bing Blogs for $9.95
All three standard electronic versions of the book will be available to you when you click on the "Buy Now" button. After your purchase is complete, please click on the Return To Merchant button to download one or all three versions of the book.
Buy at Amazon Buy at Dogwise
Buy the Paperback print edition of The Bing Blogs for $19.95
Photos in the print version are in black and white. $4.95 shipping in the US. Order now and you may download the Ebook version. After your purchase is complete, please click on the Return To Merchant button to download one or all three versions of the book.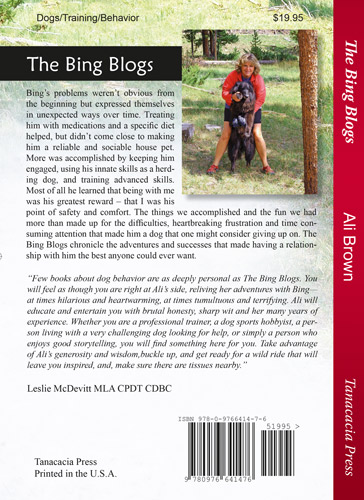 From the back cover —
Bing's problems weren't obvious from the beginning but expressed themselves in unexpected ways over time. Treating him with medications and a specific diet helped, but didn't come close to making him a reliable and sociable house pet. More was accomplished by keeping him engaged, using his innate skills as a herding dog, and training advanced skills. Most of all he learned that being with me was his greatest reward – that I was his point of safety and comfort. The things we accomplished and the fun we had more than made up for the difficulties, heartbreaking frustration and time consuming attention that made him a dog that one might consider giving up on. The Bing Blogs chronicle the adventures and successes that made having a relationship with him the best anyone could ever want.
Review from Leslie McDevitt
"Few books about dog behavior are as deeply personal as The Bing Blogs. You will feel as though you are right at Ali's side, reliving her adventures with Bing—at times hilarious and heartwarming, at times tumultuous and terrifying. Ali will educate and entertain you with brutal honesty, sharp wit and her many years of experience. Whether you are a professional trainer, a dog sports hobbyist, a person living with a very challenging dog looking for help, or simply a person who enjoys good storytelling, you will find something here for you. Take advantage of Ali's generosity and wisdom,buckle up, and get ready for a wild ride that will leave you inspired, and, make sure there are tissues nearby."
Leslie McDevitt MLA CPDT CDBC
About the book —
The Bing Blogs is 216 pages with color photos throughout the electronic versions. There are also live links to YouTube videos of Bing and Ali in a variety of situations.
The electronic version of the book is in all three standard formats will be available to you when you purchase the book for $9.95. Adobe PDF interactive (for Computer), Mobi (Kindle), ePub (Android, iPad, iPhone, and most other electronic readers and devices). If you have any questions on how to transfer your ebook to your particular reader, tablet or phone please look here: http://fhautism.com/how-do-i-transfer-the-mobi-file-to-kindle.html
Buy the E-Book version.