It takes a special person to share a house with more than two dogs. But living with multiple dogs doesn't mean giving up all the other things you love to do, or devoting all your free time and your house to your dogs.

This book will help you maintain your sanity.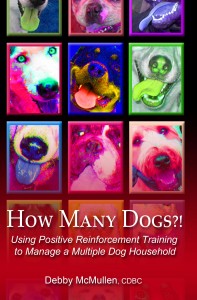 Would you like to carve calm out of chaos? Is roughhousing among your crew causing the furniture to be rearranged? Do your dogs have the manners of a hockey team? Training a multiple dog household properly involves learning to live with your crew in such a way that teaches them to offer you good manners. Less work for you, rewards for them.
Every interaction that you have with your crew teaches then something. How Many Dogs?! will help you teach them the right something. You will learn how to always be in training mode without even thinking about it. Living well with any dog but especially multiple dogs involves teaching them how to make good decisions. The more that their good decisions are noticed and rewarded, the more good decisions that they make.
Managing multiple dogs involves leadership, of course. But proper leadership is more closely related to parenting than dominance. Good leaders keep their charges safe, provide for all basic needs including affection and comfort. Good leaders provide reasonable boundaries and guidelines, rewards for good choices and limit attention to bad decisions. They interrupt bad behavior when it's unsafe but they don't use punishment.
You will not find force-based training or harsh management techniques in this book. What you will find is a completely natural and positive way to manage a multiple dog household effectively.
To learn more, please see the How Many Dogs website, click here