Whether you are working on your own, teaching a reactive class or a student in one, this DVD will show how to use positive reinforcement, shaping, and classical conditioning to help your dog learn to tolerate the world around him.

You'll learn how to structure and conduct exercises for reactive dogs to help solve behavior problems. This video offers suggestions for prerequisite lessons and skills, as well as laying out the actual exercises to use in group and individual settings, including examples of advanced, custom-made exercises for particular dogs' challenges.
A reactive dog's problems are often caused by misplaced fears and misperceptions of what is happening in his environment – you can help get him on the road to reality. Show him that he is in a safe place where people, dogs and other potentially scary things co-exist, and that dealing with them properly is a rewarding experience. There are no magic solutions to reactivity, but through working consistently in the manner in which you'll see here, a whole world of possibilities opens up, often possibilities unforeseen. Take this opportunity to change the way you perceive your dog's reactivity.
What you'll find on the DVD
• Introduction to reactive classes and 16 exercises
• Diagrams show the movement of the dog/handler teams
• Most exercises done by real students in class environments
• All the exercises are simple and easy to do
• Each exercise is indexed on the disk
• What to learn before you start
• Exercises are easily customized to individual dogs' needs
• Help for your dog in dealing with everyday environments
• Help with dog sport (agility, rally, etc.) environments
• Over one hour of instruction
What you WON'T find on the DVD
• Complicated technical jargon
• Exercises that create stressful or threatening situations
• No harsh or punishment-based methods
• No charts, glossaries, powerpoint slides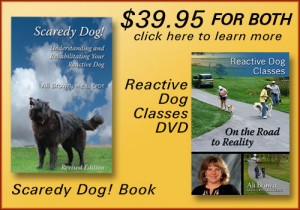 Buy the book Scaredy Dog! and Ali's DVD, Reactive Dog Classes for just $39.95. Save $10. Learn all about running effective and safe reactive dog classes. Make your secure purchase through PayPal.
---
Reviews —
Ali Brown's DVD, Reactive Dog Classes, On the Road to Reality, is an excellent resource for trainers who want to learn effective exercises to include in their classes. When conducting reactive dog classes, it's critical you set the dogs up to succeed in a safe manner. Ali clearly explains how to set up the class and exercises, offering tips for different options. She offers practical details on how the exercises work, including diagrams! I found it especially beneficial to watch the exercises in action with her students. All methods are positive and based in science, which also makes it a good choice for people who have a reactive dog and are looking for humane, effective ways to deal with the challenges. As Ali says, a good reactive dog class should look boring. The goal is to NOT elicit lunging, growling, etc. so the dogs don't practice those behaviors. I completely agree, but unlike the class goal, this DVD was anything but boring! I know I'll be referring to it often, and it's a great addition to my dog training DVD library.
Teoti Anderson, CPDT-KA, KPA-CTP
Author of Your Outta Control Puppy, The Super Simple Guide to Housetraining,
Quick and Easy Crate Training & Puppy Care and Training
Past President, Association of Pet Dog Trainers
Owner of Pawsitive Results, LLC — Lexington, SC
www.getpawsitiveresults.com
Just had to write and tell you how impressed I am by your new DVD. Each exercise is explained in such detail, that it makes it look easy, although we know that they are difficult for a reactive dog to perform. I never realized just how much detail I took for granted watching you run a class until you broke down the steps to each exercise in this DVD. This is going to help me a lot in preparation for my reactive classes that will be starting in the next few weeks. Thank you for introducing me to the world of reactive dogs and giving me the tools to help them.
Kathy Adams
ResQ Dog Training
Bay Shore, NY 11706

Get the DVD
As a pet owner, I have read and enjoyed all the other books Ali has authored on Dog Reactivity, so I was excited to receive her new DVD. I wasn't disappointed at all! The DVD is packed full of exercises that both the dog trainer and pet owner alike would find beneficial. Each exercise is broken down and explained thoroughly without the over use of technical terms, which makes it really easy to follow. I would highly recommend this DVD as an accompaniment to the Scaredy Dog series especially if, like me, you prefer to see how things are done rather than read how they are done! Thanks Ali!!
Helen R
United Kingdom