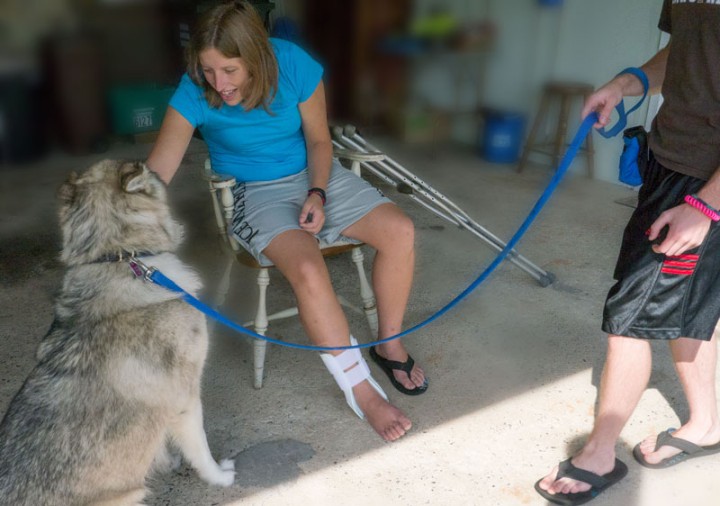 Aug 21
Katie's got ankle problems and JD is handling her Malamute, Nick.
Being Katie's boyfriend, JD has known Nick for quite some time and has attended and participated in reactive class on many occasions in the past. But he's never handled Nick alone in class.
Katie and Nick returned to Saturday Reactive Class a couple of weeks ago after a couple months off. While Nick has made great strides generally, he's very reactive to other dogs when he's out in public, particularly when he's surprised to see the dog.
Ali first gives JD instructions on what he'll be doing with Nick during the calming curves exercise. JD needs to know what foot to step off on, how many steps to take, how to turn, put the dog back in the car if he can't focus, etc. (You'll find more about calming curves in Reactive Dog Classes DVD and Focus Not Fear).
But in this case, there are two problems. Nick hasn't had a chance to get out and explore his surroundings yet today, so he'd like to sniff around a while then go up to the barn and say hello to everyone. The other problem is JD's inexperience in doing the handling and timing with Nick. In addition, JD's wearing flip-flops so he's not going to have an easy time with his footing.
You'll see in the video that after Nick's initial inability to focus, JD gives nick a short time back in his classroom home, the car. Things get a bit better when Nick gets back out. But since Nick's attention is still on his surroundings and on the people in the barn, it takes some effort on JD's part to get Nick to turn. Fortunately, JD is a karate instructor (so is Katie), so handling a large dog using some leverage is not difficult.
The other participants in this exercise, Melissa and her dog Lacie, have been in reactive class for a while and handle their job really well. They walked and then jogged toward Nick as part of the exercise.
In the end, Nick gets a chance to visit with the rest of the class and with Katie. In their later rounds, Nick and JD were able to do much better with their focus and timing, and with much better results.